Preparing your CD+G collection
Depending on what format your CD+G collection is currently in (CD+G Discs or MP3+G files), there are a number of options available. All CD+G tracks must be converted to Ots files before they can be played in OtsAV.
Note: If you already have your CD+G collection stored on your hard drive, click here.
Converting CD+G discs to Ots files
Ots Studio can now rip your CD+G discs directly to Ots files, ready for immediate playback in OtsAV.
Disclaimer: Copying CD+G content is illegal in some countries. Check with your local authorities.
To begin ripping your CD+G discs, open Ots Studio by double-clicking on the Ots Studio icon on your desktop, or selecting Start -> All Programs -> Ots Labs -> Ots Studio.
1. Place your CD+G disc into your CD/DVD drive.
2. Click on the

icon in the Ots Studio Toolbar, or press Ctrl + I on your keyboard.
3. Check the Extract CD+G box.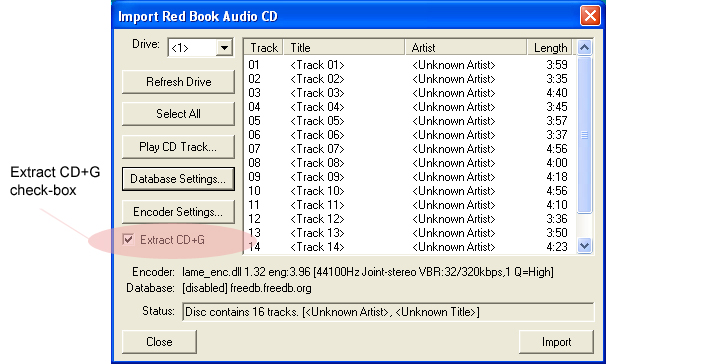 4. Click on the Import button to begin the ripping process.
Tip: During the ripping process, the Ots Studio Visual Output window will display the lyrics of the CD+G track. If you cannot see any text in Visual Output window, your CD/DVD drive may not support CD+G extraction.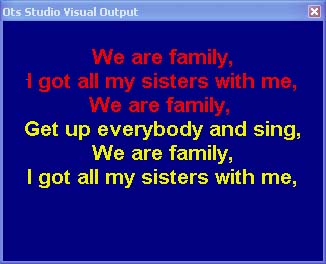 5. Once the ripping process is complete, complete any Title, Artist, and Album Title information, and save your Ots Album file by clicking on the

icon in the Toolbar, or press Ctrl + S on your keyboard.
You are now ready to play the Ots file in OtsAV.
Proceed to next topic: Playing CD+G tracks in OtsAV
Converting your existing MP3+G or WMA+G files to Ots files
If you already have your CD+G files in MP3+G or WMA+G file formats on your hard drive, you can use the Batch Conversion Tool in Ots Studio to easily create Ots files. See the Ots Studio documentation for more information.
Note: Only unzipped CD+G file types are supported. If you are using zipped CD+G files, you will need to unzip them before conversion can occur. Your CD+G files should look similar to the files below.
Artist - Title.mp3
Artist - Title.cdg
Proceed to next topic: Playing CD+G tracks in OtsAV