OtsAV Centre Panel
The OtsAV Centre Panel has three display modes showing: Cover Art, the virtual record, and the software mixer.
To toggle between the Centre Panel modes click on the

icon on the toolbar. Alternatively use Ctrl - Tab shortcut keys.
Centre Panel modes
Below are examples of the three Centre Panel modes.
Cover Art display mode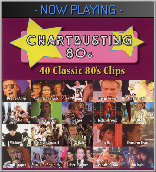 Cover Art display mode: In the Cover Art display mode the Cover Art, associated with the Ots file currently playing, is displayed.
Scratch mode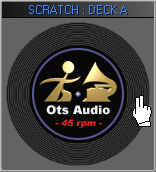 Scratch mode: The Scratch mode displays the OtsAV virtual scratch record. You are able to scratch the virtual record just like a vinyl record. For details on scratching click here.
Mixer mode
Mixer mode: The mixer mode displays the OtsAV software mixer. For details on the software mixer click here.