On-Screen Video Monitors

This option allows the on-screen monitors to be enabled/disabled, when the Video Subsystem is enabled.
The same option can be accessed through View -> Video Monitors -> Enabled (While the Video subsystem is enabled).
Tip: The Video/CD+G feature menu can be accessed by right-clicking on the center monitor.
The left monitor shows what is currently playing or cued in Deck A.

The center monitor shows what is currently being displayed on your 2nd display (TV), including any added imaging, such as ARC Embellishments, Watermark, Ticker, Clock or Slideshow. The size of the center monitor also reflects the Aspect Ratio of the 2nd display (4:3 or 16:9).
Tip: If your PC Monitor is set as the Output Display for video output, double-clicking on the Center monitor will produce full screen video on your PC monitor.
Note: If an item within a deck has no Video/CD+G data, the Ots Labs test pattern will be visible.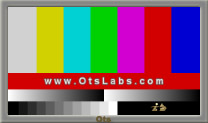 Tip: To quickly turn off the on-screen video monitors, right-click on the center monitor, and un-check On-Screen Video Monitors Enabled.