Editing outro mix point example
The editing example provided below can be followed step-by-step if you have the Led Zeppelin's Stairway To Heaven song in your Ots file collection. In this example you will be editing the outro of the Stairway To Heaven song. The same editing principles can be applied when editing an intro to a song.
Editing Led Zeppelin's Stairway To Heaven
This song contains extremely low level audio at the end of the track where Robert Plant sings "And she's buying a stairway to heaven". Because of the unusually low level audio, the Ots algorithm has difficulty determining the "real" ending, and tends to cut it off before the whole sentence has been sung. As a listener, you expect the sentence to be completed, and therefore this song is a prime candidate to be tweaked!
Load the song into Ots Studio - click on the button and navigate to the file that you want to edit. Alternatively, from within a Windows explorer window, simply right-click on an Ots file, and choose the Edit option. This will open Ots Studio and load the file you have clicked on.

Navigate to the ACI chunk - click on the + next to the item you want to edit in the File Chunk Map area -- this will expand the item and show the associated chunks. Click on the Audio Control Info chuck this will display the Audio Control Info chunk handler.

Click on Show Outro button. You will see a screen similar to this:
Show Outro example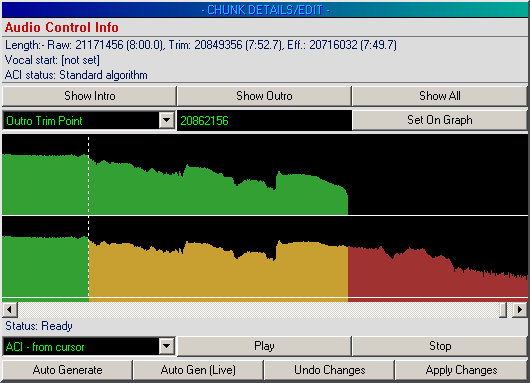 The problem with this song is that the outro trim and reference points occur before the final sentence is completely sung. This sounds a little unnatural. Choose the Outro Trim Point option from the drop-down combo box. Scroll to the very end of the track, right-click, and set the new point as follows:
Setting the Outro Trim Point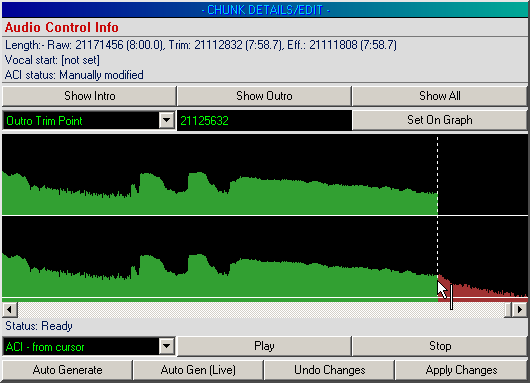 Now choose the Outro Fade Start Point from the drop-down combo box. You want to set this point a little bit in to the left so that there are no clicks or pops at the outro trim point, since it occurs where there is still audio. Do something like the following:
Setting the Outro Fade Start Point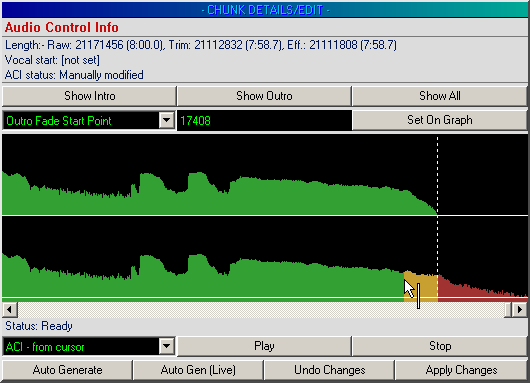 Setting the Outro Reference Point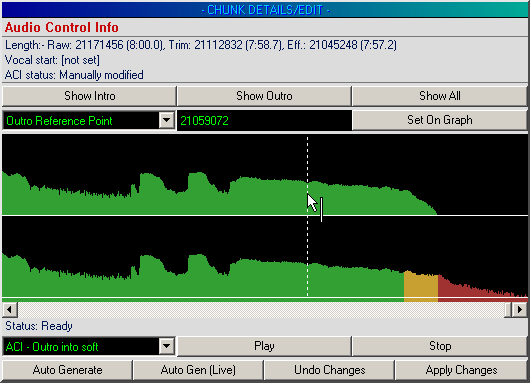 You can trial these changes by adjusted the play mode to something like ACI - Outro into hard and then clicking the Play button. You will see how these points are much better!

Finally, apply these changes by clicking on the Apply Changes button.

To save the changes click on the button.